FILMOGRAPHISCHE OFFENSIVE (TEIL 1)
NEBENROLLEN IN DAS CABINET DES DR. CALIGARI
---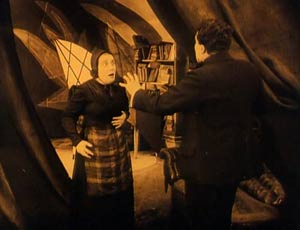 Rolle: Alans Wirtin
Darstellerin (identifiziert): Elsa Wagner

Die Hauswirtin des unglücklichen Alan. Hier teilt sie (links) seinem Freund Franzis die schreckliche Nachricht mit, dass Alan in der Nacht ermordet wurde, gerade so, wie es der unheimliche Somnambule im Cabinet des Dr. Caligari prophezeit hatte. Klare Sache, neben der schönen Jane, gespielt von Lil Dagover, ist dies die einzige Frauenrolle von Substanz im Film (mal abgesehen vom Dienstmädchen Olfens, den Mädchen beim Leierkastenmann und den verrückten Damen in der Irrenanstalt): dabei muss es sich um Elsa Wagner (1881-1975) handeln!

Eindeutige Identifizierung (14.7.2010): Mithilfe meines Kollegen Johannes Roschlau von CineGraph ist es gelungen, Fotos von Elsa Wagner aufzustöbern. Diese ist nunmehr als Darstellerin von Alans Wirtin eindeutig identifiziert.


Das Bild ist ein Screenshot von der 2003 bei Divisa Home Video (Spanien) erschienenen DVD.




back to top
---
filmhistoriker.de, edited by olaf brill.

Last update (this page): 14 Jul 2010.

The texts and images on this site are copyright © by the respective authors, except where otherwise noted. Mostly, the items were published by kind permission, but we were not able to find out all the copyright holders or their legal successors. If you know about them, please let us know, especially if there's anything wrong with publishing these texts or images. We do not intend to harm anyone's rights and thought we best serve the purpose of understanding film and general history displaying this source material and make it available for everyone.

If no author or source is noted, the texts are copyright © 1996-2010 Olaf Brill.



Impressum.